"One good thing about music. When it hits you feel no pain…"
-Prophet Bob Marley
Ladies, I listen to music every single day. I have listened to music all my life. Throughout my life, music has served all of the many purposes one would expect, plus many more. It's lifted me out of deep depressions, motivated me to action, made it easier for me to exercise, meditate and sleep. Music is the one thing in my life I have never quit or taken a hiatus from. I just can't imagine life without it. And no, I don't trust, nor can I conceive of anyone who does not like music. I don't even know what that looks like. Like where they do that at?
"Footloose?" HMMMMPH!!
Some White people shit right there. You will never see a Black movie about a fictional town where music and dancing are not allowed. We are music.
That being said, lately music seems to be one of the few things in this crazy ass world we're living in to lift my spirits, touch me deep inside and to remind me how precious, beautiful and amazing life can be. When I find tracks like this I tend to listen to them every day and get worried that I'll wear them out and they will lose the beauty that initially made me love them so much. But in times like these, I have to take that chance.
I was one of those people who was up at midnight on Tidal waiting for Solange's latest album, "When I Get Home" to drop on the last day of Black History month.
It was 12:03.
I started listening that night and haven't stopped since. It is such a beautifully crafted album. When I listen to it I can hear so much that I cannot begin to describe. It's current, unique and new but also clearly inspired by music I remember my parents listening to when I was a girl. The power of Solange's voice  in her solos seems to come from such a gentle place. I'm always moved by it. I love the whole album but "Binz" was my first breakout favorite. "Sound of Rain" is also my shit.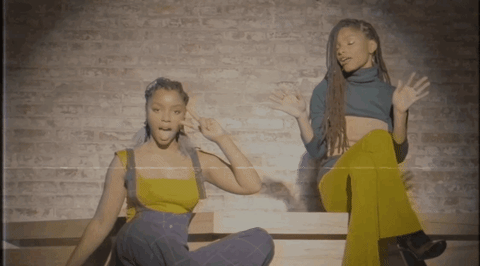 After listening to "When I Get Home" Tidal's algorithm led me to Chloe and Halle's latest album, "The Kids are Alright" which is fucking incredible. Don't @ me but though I have known about ChloexHalle since they became Youtube sensations a few years ago, I have never listened to one of their albums. The track Tidal led me to is called "Fall" and I was just mesmerized by it. I love most all of this album as well but the two tracks that give me absolute life in addition to "Fall" are "Warrior" and "Cool People." These sisters, they way they harmonize with one another, is beyond explanation. I get goosebumps! I feel that they are still in touch with something that is purely about the love of singing and of music in a way that seems lost in even the most talented vocalists out there.
Lastly and a bit reluctantly I have to give props to a new artist named iyla and her debut album "War+Raindrops." My husband who is also a music lover introduced me to her. I say that I give her props reluctantly because when I heard her I heard Blackness but when I saw her I was like ooooooohhhh lord. Here we go Appropriation Becky.
The thing about Black people is that when it comes to music or dancing we allow anyone in when we feel them. Celine Dione, Rick Astly, Justin Timberlake…
You get the picture.
And iyla…gurl!
Just listen to "Juice." That shit is hot. That and "California" I have on blast in the apartment whenever I can. I made the mistake of watching the video for
"Juice" and saw the usual White Peopling and appropriating of Blackness and Black bodies and just had to shut it out for the time being. I mean the whole video is some minimalist, interpretive artsy ish to begin with. Not that I'm adverse to that but I need things to make sense. And when I listen to "Juice" and "California" I get all the way open. So I'll just take that thanks! LOL!
What music is giving you life these days?